BCYMP INVITES YOU TO JOIN ITS MENTORING SUPPORT SQUAD
You can probably tell a story about someone who helped you when you were a kid. What was his or her name?  Did you know that 22% of youth surveyed today can't name a single adult who encourages their growth, provides support, or expands their horizons? (Search Institute) And even here in Brookings County, 25% of teens report feeling lonely, anxious or depress.
BCYMP works hard every day so more K-12 students in our community grow up with a Mentor.  Research show that mentored youth have higher academic and leadership outcomes, as well as greater work-preparedness and economic mobility. They are also less anxious, depressed and lonely.
The average national cost for programs like BCYMP is $1,695 per yer/per child; yet, through the help of generous people like you, BCYMP efficiently does this work each year for less that $1,000 per BCYMP Mentoring Pair.
Would you please consider joining the BCYMP Mentoring Support Squad by becoming a monthly donor?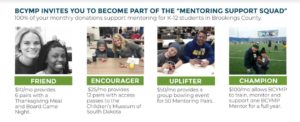 WHY BECOME A MEMBER OF THE MENTORING SUPPORT SQUAD? 
1. To enable BCYMP to quickly serve more kids in Brookings County.  Monthly donors help us match Mentoring Pairs quickly when new needs arise: for example, when families with high-need youth move into our community, or when a parent or guardian is unexpectedly out of the home, leaving a support void that a BCYMP Mentor can help fill.
2. To provide predictable income. Having a more consistent monthly income will allow BCYMP to plan for larger projects like, for example, revamping our pre-service Mentor Training program and making other organization improvements.
3. To increase your lasting impact.  A regular gift made over time creates a greater total impact in the lives of our BCYMP Mentoring Pairs and helps build a stronger relationship between BCYMP and you.
HOW DO I JOIN? 
Thank you for asking!  You may join the BCYMP Mentoring Support Squad several ways:
Setting up a recurring gift bank draft through MetaBank or FB&T in Brookings. 

Making a recurring donation via PayPal to bcymentoring@gmail.com.  (You don't need to have a PayPal account to choose this option.
By printing, completing and mailing the card below to P.O. Box 8443, Brookings, SD 57006. 

(You may also complete it online here.)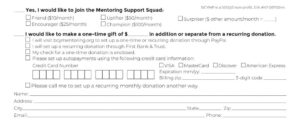 If you have any questions or would like to learn more about BCYMP, please don't hesitate to contact us. We are passionate about the work we do, and would be happy to visit with you or present to a service or community group with whom you're associated. 
THANK YOU!